We have recently framed and hung a large collection of finely detailed 18th century prints of Switzerland for the grander chalet………….
From
From the publication 'Tableaux de la Suisse, ou Voyage Pittoresque fait dans les Treize Cantons et Etats alliés du Corps Helvétique' by the Swiss historian Béat Fidèle Antoine Jean Dominique de la Tour-Châtillon Baron de Zurlauben & de la Borde1720-1799, they have tremendous charm and are framed in water gilt frames with pale gluey grey sides.
Lake Geneva in the 18th century showing the Chateau de Chillon
The Devil's Bridge on the Mont St. Gothard above a roaring torrent…..
The bridge opened the first passage between Switzerland and Italy. There are many bridges that legend relates were built by the devil, they are normally represent a significant technological success in the face of nature.
According to a local myth, building the first bridge was very hard and so the Devil himself agreed to build it. The condition attached to the construction was that the Devil would get the soul of the first to pass over the bridge. So, when the bridge was finished, people chased a goat over the bridge. Angered by the trick, the Devil went to pick up a large stone (called Teufelsstein, the Devil's Stone) in order to smash the bridge to pieces. On his way to the bridge however, he encountered an old believing woman with a cross. Scared of the cross, he left the stone and fled. The devil's stone weighs 220 tons and stands near Göschenen. In 1977, the stone was moved 127 meters to make way for the new motorway passing over the St.Gotthard Pass, at a cost of 300,000 Swiss Francs.
Popular belief has it that the moving of the stone was the cause of an increased number of accidents on kilometre 16 on the St. Gotthard road tunnel.
We always have large sets of prints and this set of aquatints after Raphael are very striking
Each engraving with an allegorical figure set against a black sky holding an item or animal with a predella scene in the lower border,
these depict scenes of animals, again relating to the respective times of day and night.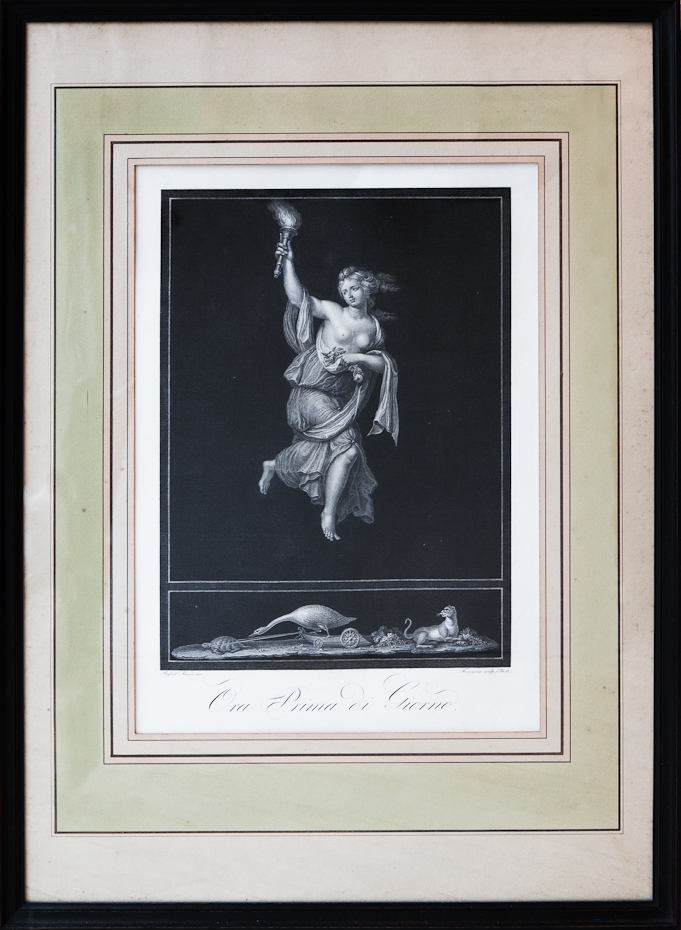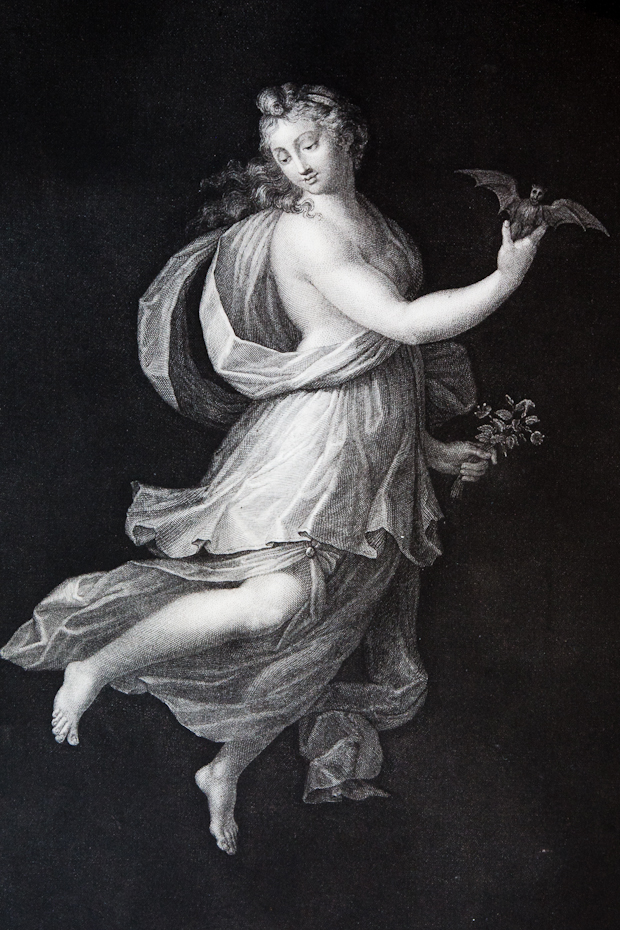 Meanwhile we now have two shop dogs Nancy and now the younger Lucy.
They also do their bit posing……………………here seen in front of and early 18th century English Tapestry sitting on an Empire chair.