January can be a quiet month after the long break for Christmas and the new year. We now have a second shop dog a severn month old rescued whippet lurcher called Lucy……. see her and us on the 'About Us" new section on our website.
Posing on a French mahogany fauteuil by

Pierre-Antoine Bellangé,

one of the most important makers of the period. This chair could have graced the Napoleonic household sat on by Napoleon or Josephine!
I thought that some more inspiration for the walls would be a good way to start off the year, especially as we have been selling both prints and tapestries.
I have always been a fan of close hung prints and this is how we show them in the shop.
Here we hung a collection of mostly 18th century black and white prints above an English sideboard. Putting together collections is something that we love and we will be showcasing more soon.
Here for the villa of architect Olivier Clément Cacoub and his wife, Danielle, in Cap-Ferrat, France, which appeared in the February 1983 issue of AD, Alberto Pinto decorated the grand salon in cool colors. The walls are graced with 18th-century engravings.
A set of three 18th century engravings after Joseph Vernet that we have in the shop. A collection can always be built up slowly adding prints as you find them or look through our extensive collection of 17th and 18th century engraving.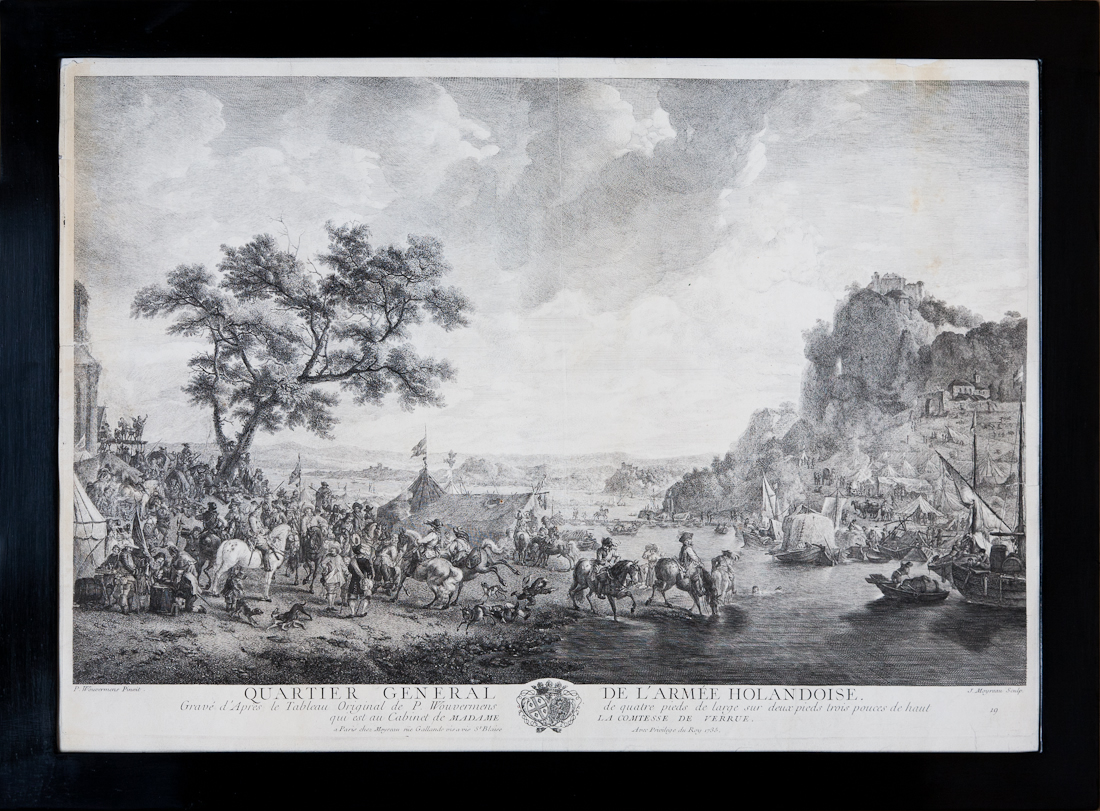 One of a pair of 18th century engravings after Wouvermann. We often frame in very simple gessoed ebonised frames. There is also nothing so grand and simple as water gilding.
Galleria Farnese Published Rome 1693
Halls and passageways and staircases are particularly good places to close hang antique prints
Here a collection of 18th century architectural prints in black and hold frames are hung to great effect in a hallway.
Here the decorator Mark Sikes has hung a large collection of birds close together and they look marvellous.
Here a set of pressed ferns collected in Jamaica in the late 19th century are framed in water gilt and painted frames
A set of 12 18th century armourial prints in ebonised frames
12 framed aquatints of the "six hours of the day and the six hours of the night"
Hung in either a modern or period setting these large sets of engravings make a great statement and cover a lot of wall space!
To see more visit our website and come and meet us and the shop dogs