Decorating with antiques is IN.............. the elegance of early 18th century, the sophistication of the early 19th century, the "look" is fashionable, it is timeless; furniture from the 1720's has a warmth and feel to it and sits comfortably with art form the 21st century. I have always believed that if something is good quality it will usually go with other pieces of good quality.............then, in this age of carbon credits and re-cycling, antiques have to be the ultimate in green & re-cycling.
The shop has been busy so we have some great new stock, some already here and some arriving soon.
This large French Empire console table with a white marble top is just over 2 metres wide and with two large drawers would make a dining room, simple enough to support a large contemporary painting hung above. Or for a more traditional look we have an eclectic collection of 18th century black and white prints ................
Seen here hanging above a burr maple veneered English side board from the late 18thc / early 19thc. Probably made by George Bullock the eminent English cabinet maker.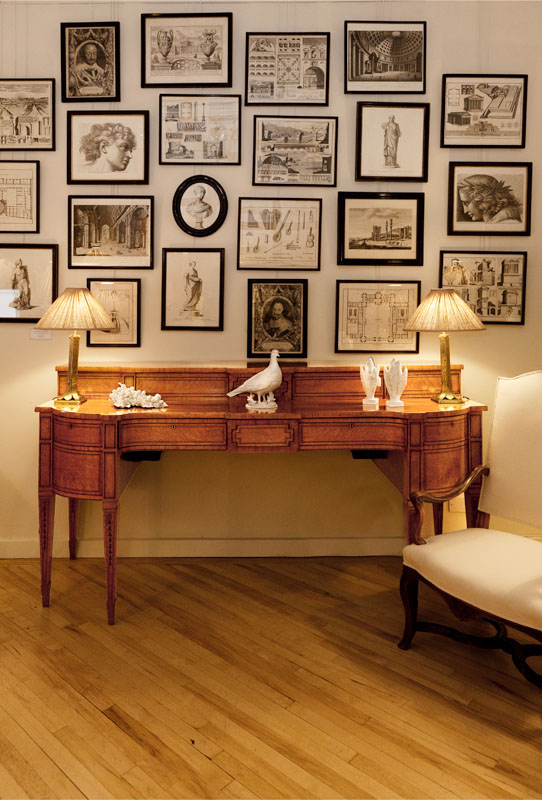 Other new pieces in are this small French Empire period writing table, perfect for a guest bedroom
We have also a small collection of table lamps that I have either designed or adapted from antique originals. These appeared on the House & Garden blog recently.
This summer has been you could say non-stop! First we had the Queen's Diamond Jubilee which made us all pretty proud to be British, this was followed by the Olympics which were far more exciting than any of us could have hoped. Then Charles and I headed down to our house in the Var. We got there during the second week of September, avoiding the heatwave that had been sitting over Southern Europe for weeks, and leaving the rain behind. We were again seduced by Provence, I can never get over the smell of the trees and herbs it is something special in that area. One of the fun things is going to the markets in the local towns and villages. We often go to Salernes, where you can easily go mad.....
We took three days off to go to the big Antiques Fairs in Avignon and Montpellier in September. Always good hunting grounds, and where you catch up with friends and generally have a good time.
I usually find smaller things and unusual things.......
This carved pheasant about to take off
These very chic planters
We have arriving soon, three commodes, two early 18th century and one early 19th century a very stylish early 19th century book case with glazed doors and a wonderful landscape............images soon
It has been a very long time since the last blog ................ but will hopefully keep things up now we are back!